The best choose for your automotive project!
In today's global marketplace, quality has become a critical factor in the success of any business. Quality is not just about delivering products that meet customer requirements; it's also about ensuring that products are manufactured in a consistent and reliable manner. This is particularly important in the automotive industry, where safety and reliability are paramount. That's where the IATF16949 certification comes into play.
IATF16949 is a quality management standard specifically designed for the automotive industry. It is based on ISO 9001 but includes additional requirements specific to the automotive industry. The IATF16949 certification is recognized globally as the benchmark for quality in the automotive industry, and companies that hold this certification demonstrate a commitment to continuous improvement and customer satisfaction.
Joker Jack nuts are a type of threaded insert that can be installed in a variety of materials, including metal, plastic, and composite materials. They provide a reliable and durable means of attaching components to a vehicle, and their use is widespread in automotive manufacturing.
However, the quality of jack nuts is critical to their performance and reliability. Poorly manufactured jack nuts can lead to failure, which can result in serious safety issues. That's why the IATF16949 certification is so important for companies that manufacture jack nuts.
Joker Industrial has IATF 16949.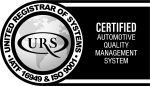 To achieve IATF16949 certification, we must demonstrate that it has implemented a quality management system that meets the requirements of the standard. This includes a focus on continuous improvement, customer satisfaction, and the prevention of defects and non-conformities. The certification process involves a rigorous audit by a third-party certification body, which verifies that the company's quality management system meets the requirements of the standard.
Companies that hold IATF16949 certification are required to continuously monitor and improve their quality management system. This includes regular internal audits, management reviews, and the implementation of corrective actions to address any issues that arise. By doing so, companies can ensure that their products consistently meet customer requirements and are manufactured in a reliable and consistent manner.
In conclusion, quality is essential in the automotive industry, and the IATF16949 certification is the benchmark for quality in this industry. Companies that manufacture jack nuts must ensure that their products are manufactured to the highest quality standards to ensure safety and reliability. Holding IATF16949 certification demonstrates a commitment to quality and customer satisfaction and provides assurance to customers that the products they are using are of the highest quality.